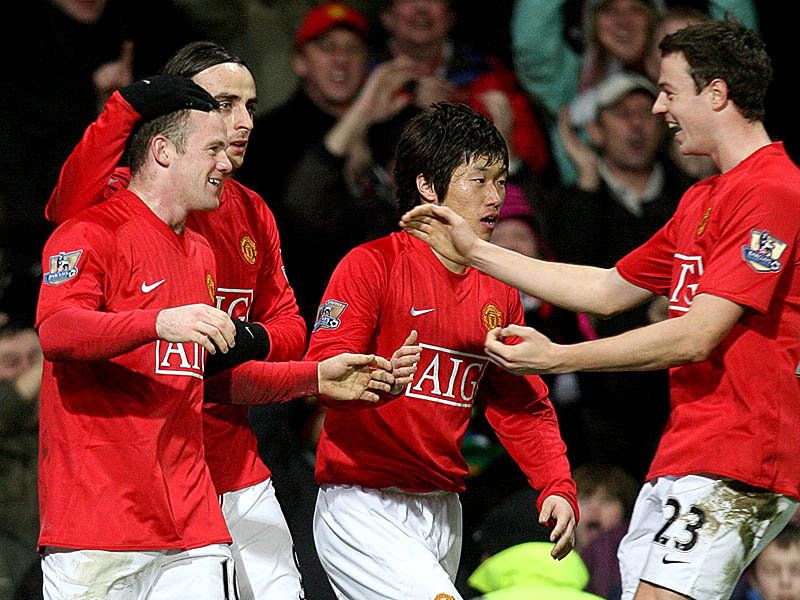 Manchester United's defeat of Chelsea on Sunday was a team effort of the highest excellence. As Andy Gray aptly put it during commentary, 'in grand slam terms, the victory was really a thumping'. Most felt that Sir Alex Ferguson was being tactically inane by picking runners over passers in the middle of midfield. Ferguson's decision to go with a mere two in the middle by itself seemed unintelligent, but add to the mix the selection of Giggs and Fletcher over the passing maestros Michael Carrick and Paul Scholes, the selection seemed downright disastrous. The Scotsman though was fully vindicated in his selection as he saw his team inflict a severe dent on Chelsea's title hopes. Luiz Felipe Scolari, the famed former Brazil manager has managed to consistently get his tactics wrong in the big games and against Man United, his decision to crowd the middle of midfield opened up spaces in other areas of the pitch, which the likes of Cristiano Ronaldo, Wayne Rooney and Park Ji Sung exploited to full potential. 
With Ryan Giggs in magnificent form and Darren Fletcher at his exuberant best, United maintained an excellent tempo throughout the game. Giggs at the grand old age of 35 epitomises all that is good with Manchester United. He hasn't lost any of his appetite for the game in spite of being asked to don a more central role these days. Giggs is the first to admit that he cannot maraud down the wings as he once did, but he still brings a whole lot of quality on board through his supreme footballing intelligence and evergreen skill. He doesn't seem to tire of winning trophies and his hunger and desire sets a fantastic example for budding footballers around the world. Against Chelsea on Sunday, Giggs put in a majestic performance, the full value of which will only be realized at the end of the season. Central midfielders are often measured in their approach to the game. Giggs though wasn't afraid to dribble at the heart of Chelsea's midfield often taking two or three players with him and thereby creating open spaces in other areas of the pitch. His defensive awareness and incisive runs from the middle was perhaps the most telling of all contributions in what was a sensational team effort. 
With Rooney and Berbatov showing signs of establishing a potent partnership and Park being his effervescent self, Ronaldo played his best game of the season thus far. He was a threat every time he got the ball and his adept flick to set Evra free down the left wing leading up to the second goal was one of the highlights of the game. What was striking about Ronaldo's contribution on Sunday though was his willingness to track back and help the full backs counter the attacking threat of Bosingwa and Ashely Cole. Ronaldo is usually reluctant with his defensive duties, but on Sunday his contribution to the team's cause went beyond his customary attacking brilliance. 
A word of mention must also go to Jonny Evans who displayed a maturity and calmness unknown for a 21 year old centre half. Evans only played due to the back spasm suffered by Rio Ferdinand hours before the kick off, but in dealing splendidly with Didier Drogba, he showed the world exactly why Ferguson rates him so highly. Through clever positing and adroit tackling Evans ensured that Ferdinand was barely missed by the champions. If Manchester United can win their games on Wednesday and Saturday, Liverpool will play Everton knowing that they need to win to regain their position at the top of the table. The rout of Chelsea could well be the game which sets Manchester United's season well and truly rolling.