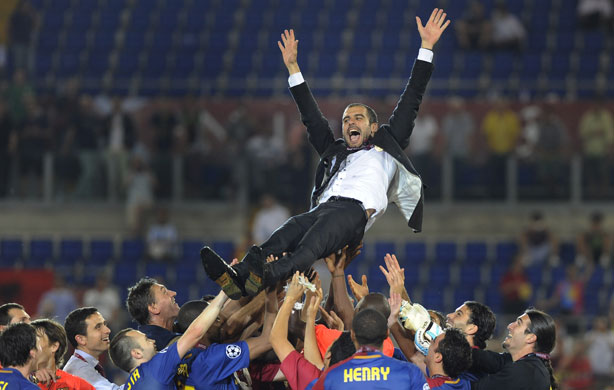 Sport has a capacity to throw up the most wonderful stories from time to time and yesterday's victory for Pep Guardiola's Barcelona team was one such story which is sure to have warmed the hearts of not just Barcelona fans but also the lovers of the beautiful game. Rarely does football transcend the division that exists between fans of opposing clubs, but Barcelona's victory in the Champions League final last night, is one such moment when even ardent fans of Manchester United would have found it hard not to appreciate what was an extraordinary display of footballing supremacy from the Catalan Giants. It was indisputably an unimpressive performance from Manchester United, one that reeked of timidity and excessive respect for the opposition, especially when considering the nature of the occasion, the Champions League final, but that cannot take anything away from Barcelona. There are always going to be question marks over the tactics, when a team gets undone in the manner in which Untied were last night, but the focus for me shouldn't be on the frailties of Manchester United that were so ingeniously exposed, but on a performance of rare polish and elegance from Barcelona. 
Champions League games often tend to be tense tactical battles and rarely bring out the attacking brilliance in teams, but last night's performance at the Stadio Olimpico in Rome must surely rank alongside the most impressive of performances in a European Cup final. Pep Guardiola claimed that Barça know to play only in one way and many claimed that this may well prove to be their downfall in trying to conquer a superb Manchester United outfit, but as things panned out, Barcelona well and truly mesmerised a disorganised and weary United. Sir Alex Ferguson pointed out before the game, "I don't think Iniesta and Xavi have ever given the ball away in their lives, they get you on that carousel and they can leave you dizzy." Iniesta and Xavi certainly got the Man United midfield on that carousel once Barça opened the scoring against the run of play and some of the superbly imaginative passing and movement from the midfield duo left even the audience gasping for breath.
When Iniesta is in the kind of form that he so wonderfully exhibited last night, it leaves me with no doubt that he is the best footballer in the world. Often unheralded and overshadowed, the shy lad from Albacete more than came to the fore in the biggest of occasions producing a performance of magnetic brilliance. Blessed with superlative footballing intelligence, Iniesta as I have opined in the past is certainly one of the most sublime footballers that the world has been privileged to witness in many a year. It was the pint sized magician who provided the first goal, darting past uncommitted tackles in midfield with consummate ease and laying the ball for Eto'o to finish. Lionel Messi was no doubt in magnificent form, scoring from a superbly athletic header and providing a constant threat with his movement, but it was in the midfield that the game was won and lost. Xavi and Iniesta did not let Carrick get anywhere near the ball and created one exquisite pattern after another and kept the Barcelona metronome ticking with minimum of fuss.
Manchester United could quite simply not respond to the supreme levels that Barça surpassed with such elegance and class and were unable to do much with the ball on the rare occasions when they got hold of it. Manchester United have proved their dominance over the last couple of seasons and it takes an exceptional performance to outdo the Reds, let alone embarrass them. Barça though provided not only an exceptional performance in terms of efficiency but also one that was crammed with such splendour and majesty that United were well and truly outclassed on the night. United though mustn't be overly disheartened, for they have been marvellous over the last three seasons and with a few tweaks here and there, they can be back at the top of Europe. Barcelona on the other hand will be basking in the glory of a superb treble and their manager Pep Guardiola who has had a fantastic debut season will look to stick to the footballing philosophies indoctrinated in him by the great Johan Cruyff that have produced such outstanding results to go with the most gorgeous of football.